When you're expecting a baby, you've got a ton of questions. With most of the pregnancy and parenting books available geared towards new moms, new dads sometimes get lost in the shuffle. It's not surprising since mom-to-be and baby are the stars of the show. But, pregnancy affects dads-to-be, too, and GR8 dads-to-be need advice, also.
However, there is a growing number of books on pregnancy and parenting written from a male perspective to help guide GR8 dads-to-be become the best dads they can be. The books on this list are filled with tips and techniques that can help you, your partner, and the new baby in the exciting life-altering months to come.
What it does: Written from the viewpoint of an expectant father, the book gives you a month-by-month guide to pregnancy. Author Mark Woods, a former journalist, tells it like it is, with a definite humorous sensibility. He blends the latest research with his real-life experiences as a dad, to give you a realistic survival guide to the whole nine months.
Why we think it's GR8: Funny without being corny, this book is informative and practical. It deftly covers how an expectant dad can help and support his partner, especially tips on what not to say or do.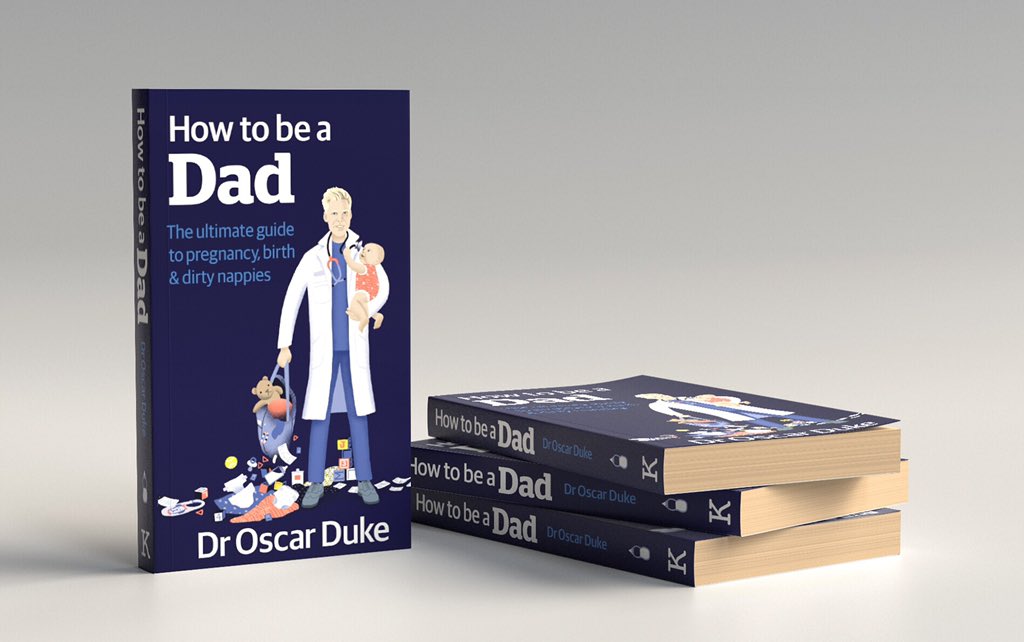 What it is: Written by an author who is a doctor and a dad, this book answers "man questions" about pregnancy and fatherhood. He combines his real-life experience with his medical knowledge to offer practical, relatable advice.
Why we think it's GR8: Well-written and packed with facts, the author's conversational style makes the information easily digestible. The chapters are divided into "From the Dad" and "From the Doctor," and it includes a "What Women Want" section based on a survey of pregnant women that contains useful and different views on each topic.
What it is: From the creator of Man vs Baby blog, this book provides completely impractical advice for new dads. He takes a humorous look at the mystery and madness of becoming parents.
Why we think it's GR8: Did we mention it was funny? The author doesn't pretend to have all the answers, but he does see the hilarity in the experience of becoming a new dad. And in so doing, he makes you feel reassured that you are not alone, and everyone feels like they are in over their heads sometimes.
What it is: Author Dr. Anna Machin has spent the past decade studying the experiences of fathers and the questions they have. She presents recent research into fatherhood and the important role they play in their children's lives.
Why we think it's GR8: It's a page-turning read filled with insights about fatherhood, how much it can change a man, and how much fatherhood has evolved in the last five decades. The author underscores what an important influence good dads are on their children.
What it is: Written by a former commando and father of three, this book is a military-style guide to becoming an "elite dad" and caring for your "troops."
Why we think it's GR8: Written in military jargon, the book is humorous and positive. The practical bullet-point style makes what might seem overwhelming into easy-to-follow steps. It includes commentary from other new dads, making it a GR8 reference for future and new dads.
What it is: Written like a car mechanic's manual, the parenting book tackles everything from pregnancy and birth, gassy baby, diaper changes, and illnesses with mechanic jargon like production and delivery, emission control, pit stops, and routine maintenance.
Why we think it's GR8: You might buy it as laugh, but will soon find it is full of useful tips and information. And it doesn't stop after birth, it covers all the way to the teenage years.
What it is: Written in diary style, the author provides an honest look into the day-to-day experiences and emotions of becoming a father.
Why we think it's GR8: Funny and honest, the book deals with difficult issues. It's not an instruction book or manual, the author's style is relatable and witty.
What it is: This guide is one of the first pregnancy and parenting books written specifically for new fathers. It guides you from conception through to your child's first birthday with humor and honesty.
Why we think it's GR8: The book avoids clichés and talks about fatherhood like it is. It covers the fiery hell of midnight feedings, projectile vomiting, and everything else you can think of. This funny and useful book is filled with relatable dad quotes.